Recycling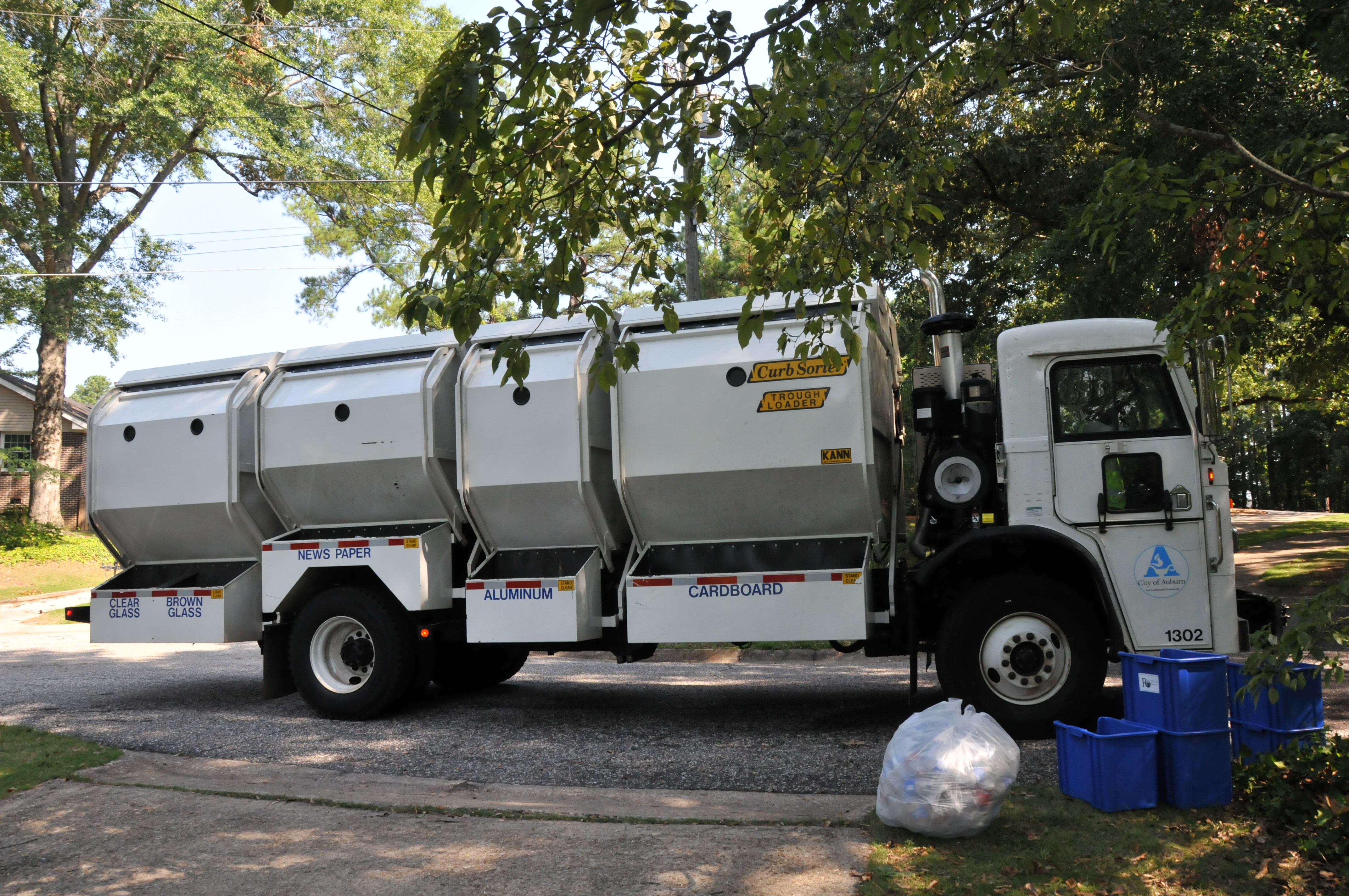 In 1987, the City of Auburn became the first municipality in the state of Alabama to introduce curbside recycling services to residential customers. In 1999, the Recycling Drop Off Center and Compost Demonstration was established to provide citizens the opportunity to recycle 24 hours a day 7 days a week. For residents that subscribe to the city's garbage service, recycling is collected at curbside on your regularly scheduled collection day.
Commodities collected at curbside (separated):
Aluminum Can Only
Cardboard (no larger than 4 ft x 2 ft- flattened)
Glass (brown and clear only) Green glass is not collected curbside at this time.
Newspaper
Plastic Bottles Only (#1 and #2 code only) No plastic bags or other plastic please.
Steel Cans/ Tin Cans
Note: If you do not have recycling bins, you may use milk crates, cardboard boxes or other suitable containers for placing recyclables at the curbside.
Commodities accepted at the Recycling Drop Off Center:
All items accepted curbside
Batteries (transistor only)
Cellular Phones
Cooking Grease/Oil (pick up a 1 gallon container and return it when full)
Electronics (by appointment only due to packaging requirements, call 501-3080)
Green Glass
Magazines
Mixed Office Paper
Scrap Metal (worn or extra bits and pieces of metal such as scrap piping and wire, or worn metal items)
In addition to the curbside and drop off programs, a mini recycling station is located on Shug Jordan Parkway at the City of Auburn Fire Station and Shug Jordan Soccer Fields.
What is RECYCLING?
Recycling is the process by which materials, otherwise destined for disposal are collected, reprocessed or remanufactured, and re-used. Recycling diverts waste materials and reduces the volume of household garbage collected and disposed of in landfills. Recycling provides economic savings through reduced landfill disposal costs incurred to dispose of waste.
Recycling also produces environmental benefits including energy conservation, natural resource preservation and reduced air and ground pollution. Further, consumers can contribute by purchasing materials with recycled content and reusing items as many times as possible before disposing of and/or recycling them.
East Alabama Recycling Partnership
The East Alabama Recycling Partnership (EARP) aims to establish a comprehensive and coordinated regional recycling program to divert material from landfills by initiating programs to expand their capacity to collect materials and by implementing promotional and educational activities.
Planning and working together, EARP members (Lee County, cities of Opelika and Auburn, Auburn University) have enhanced their recycling programs, seeking to maximize recycling participation, reduce operation costs, and more effectively market recycled materials. The sharing of ideas and resources provides a strong foundation for a future regional recycling program. For more information on EARP visit us at http://eastalrecycles.org/earp/