Boards and Commissions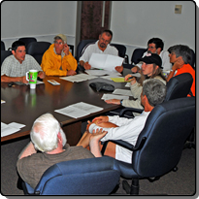 The Auburn City Council appoints members to a variety of boards and commission to help provide feedback and guidance to the council on various issues and areas of city operations. Board membership and meeting requirements are determined by State of Alabama law where applicable. Click on each individual board to see a listing of current members and for meeting times and locations.
Board vacancies are announced at Auburn City Council meetings approximately one month before appointments are made. Announcements can be found in the City Council agenda at http://www.auburnalabama.org/agenda. Board vacancy announcements are also published in the Open Line newsletter.
To apply for a board vacancy, please send a letter of interest and/or resume to your City Council member or to the City Manager's office at: [email protected]
Letters/Resumes can be mailed to:
Boards and Commissions
Office of the City Manager
144 Tichenor Avenue
Auburn, Alabama 36830