Fire Safety Education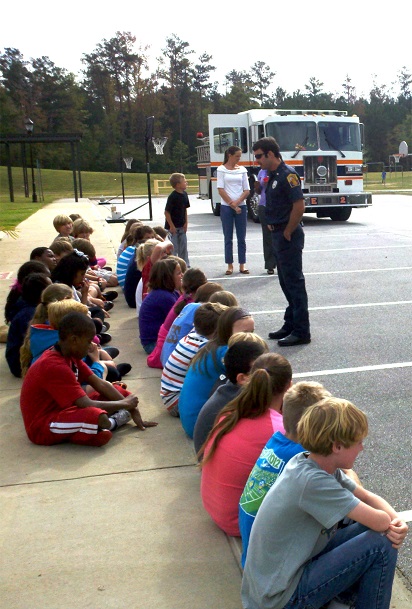 The City of Auburn and Auburn Fire Division believes one of the best ways to eliminate the loss of life or property is through educating the public about fire prevention and safety. For this reason Fire Safety Education is a primary goal within our City.
The Auburn Fire Division offers a wide variety of public education opportunities. Auburn Firefighters are available to deliver several different fire safety presentation designed for various individual groups. We speak to both the residential and business communities. Our message to the community is extended primarily through schools, public events, and upon request. On request, a presentation can be scheduled for a preschool, child care facility, school, community group, senior citizen group, business, etc.
Seasonal Fire Safety Information
Fire Station Tours
Individuals or Groups of 30 or fewer may schedule tours of a fire station. These station tours are typically conducted at Fire Station #1, located at 359 E. Magnolia Avenue. Tours include a look at the living area of the station, an explanation of the different types of fire trucks and a display of some of the tools found on the trucks. Many tours may include witnessing a live fire call. Groups may be able to watch firefighters in action as they prepare to respond. Station tours take from 30 minutes to one hour.
Although we are happy to be a part of birthday parties by providing a tour, we are unable to host parties at the fire station.
Fire Truck Display
Fire trucks and firefighters may be requested to come to you for events to answer questions about fire prevention and general questions about the fire trucks and being a firefighter. Firefighters will give a brief overview of the fire truck, firefighter equipment, firefighting protective clothing, and fire safety. Please keep in mind that emergencies take priority, and in the event of a fire call, the fire trucks may leave the event and respond to the emergency.
Fire Safety House
The Fire Safety House is a mobile learning vehicle. Upon request for large public events, the Auburn Fire Division will deliver hands-on training and education to children and their parents in the safe, controlled and realistic environment provided by the Fire Safety house. One of the most important uses of the Fire Safety House is the ability to simulate smoke conditions in a home setting through the use of non-toxic theatrical smoke. The emphasis on this simulation is awareness of the environment around you and how to escape your house during a fire. The Fire Safety House is a resource provided by Lee county, so the Auburn Fire Division's ability to provide the Fire Safety House will depend on it's availability.
Other Public Education Presentations
The Auburn Fire Division will gladly have firefighters speak to your group on a wide range of topics regarding fire prevention, household safety, the day to day activities of the fire department and any other related topics regarding fire safety. These topics include, but are not limited to: smoke detector use and care, fire extinguisher education, business pre-fire planning, stop drop and roll, knowing your local emergency numbers (911), fire drills, etc.
How to Schedule an Event
For more information or to schedule an event, please contact Public Safety Administration at (334) 501-3110. Please provide at least a two-week advance notice of the event due to a high demand for these services