Service Forms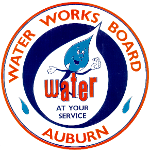 Below is the information necessary to transfer water, sewer, and/or garbage service with the Water Works Board of the City of Auburn. Please fill out the information below clearly and precisely.
Please contact The Utility Billing Office at (334) 501-3050 if you have any questions or concerns regarding transferring an account with The Water Works Board. Email us at [email protected], or visit our office at 1501 West Samford Avenue in Auburn, Alabama.
*NOTE*—There is a $15.00 service charge for all service transfers.
*NOTE*—If received by 1:00 p.m. CST, requests can usually be completed the same day, except during peak work periods.