Jonathan Crowder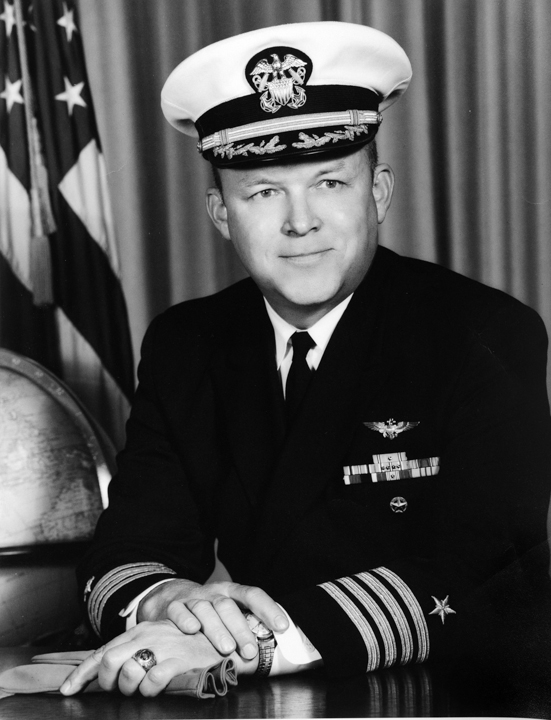 Jonathan "Jay" Crowder
Captain, USN
Captain Jonathan "Jay" Crowder was born on January 28, 1922. He graduated from Wadley High School at age 16 and attended Southern Union College until his senatorial appointment to the U.S. Naval Academy in Annapolis, Maryland. After graduating in 1944, he served aboard the battleship Massachusetts in the Pacific theater.
During World War II, Crowder attended flight training and earned the "Gold Wings" of a Naval Aviator. His flying career led him to research and development in heavy attack and air-to-air missiles. As commander of the VCP-61 on Guam, his mission included aerial photo reconnaissance and mapping over Vietnam, New Zealand and China using the Douglas A-3 "Skywarrior."
After serving as executive officer of the aircraft carrier Oriskany, Crowder was promoted to captain and became the commander of the Naval Photographic Center in Washington, D.C. There he oversaw the official photography of the White House and Lyndon B. Johnson Library. Crowder left Washington to become the commander of the Naval Support Activity in New Orleans.
During his military service, Crowder's medals included: the Meritorious Service Medal, the World War II Victory Medal, American Service, American Defense, Korean Service, Asia and Pacific theater, Vietnam Service, Vietnam Campaign, National Defense, Naval Aviator Insignia and Command at Sea Insignia.
Crowder became a community leader in New Orleans, during which time he not only received a "key to the city," but had "Crowder Boulevard" named after him in recognition of his service. After retirement, the Crowders returned to Wadley, where he continued his civilian leadership as Mayor. After moving to Auburn, Crowder earned a Master's degree and began Ph.D. work at Auburn University. Crowder was a Paul Harris Fellow as a Rotarian, and was honored by the Auburn Chamber of Commerce with an Eagle Award.
In the 1990s, I asked Jay Crowder to help raise funds for the Auburn Veterans Memorial. I'm proud to have worked with him in forming what is now the Auburn Veteran's Committee, and I'm proud that the committee is recognizing him today as one of Auburn's Heroes Remembered.