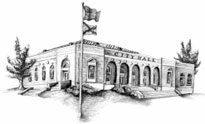 Welcome to the City of Auburn's eNotifier System!
To manage your eNotifier subscription please enter your e-mail address to log in and change your preferences. If you do not already have a subscription with the City of Auburn, entering your e-mail address will create an account for you and you can then choose which notifications you wish to receive. You must add your cellular phone number if you wish to receive text messages from the eNotifier system. When adding an e-mail address and/or cellular phone number to our system you will receive a test message. If you do not receive this message please check your spam folder and approve the sender so you may receive the notifications. Standard text messaging rates may apply if your cellular carrier charges you for texting.
City Government and Services
Boards and Commissions Vacancy Announcements

For alerts when there are vacancies on one of Auburn's Boards and Commissions.

City Council ePacket

Provides announcements on City Council agendas. Subscribers will typically receive a link to the City Council packet at the same time that City Council members receive their agenda packet on the Friday prior to Council meetings.

Planning Commission & BZA ePacket

Notifies subscribers each month when new Planning Commission and Board of Zoning Adjustment ePackets are posted on the Planning Department's webpage.

Traffic & Street Updates

Keeps you up to date about things that may affect your travel routes, such as street, lane or sidewalk closures.

Trash Pickup & Recycling

For announcements related to your trash, garbage and recycling pickup schedule, including holiday schedules.
City News and Information
Job Vacancy Announcements

For notifications about employment opportunities with the City of Auburn.

News and Announcements

To keep you up to date on most official city press releases and other City announcements at the same time as the media.

Open Line

For announcements when the latest issue of Open Line is posted to the City's website.
Leisure Services
Athletics - Weather Alert

For alerts on field conditions.

Bicycle Auburn

For announcements about Bike Bash and the Auburn Bicycle Committee.

Library

For information on events, classes, programs and new services at the Auburn Public Library. You'll also receive announcements regarding holiday closures and other news.

Library - Youth Services

Provides information on events, classes and other programs for children, teens and young adults at the Auburn Public Library.

Parks & Rec - Leisure Link

Provides notifications when a new Leisure Link has been published on the City of Auburn website.

Parks & Rec - Pool

For news and announcements regarding the public pools and programs.